Producing Washington's Best
Yellow Labradors Since 1992
Video of AFC Sired puppies in action
Available now! Call: 360-629-0818
Our goal at Blue Sky Labs is quite simple: to breed beautiful, well-mannered and high performing field trial quality Yellow Labrador Retrievers.
We have been breeding, training, competing (and winning many prestigious events) and selling the finest Yellow Labrador Retrievers in the Northwest since 1992. Over the years we have produced 3 or 4 litters yearly and have shipped our dogs to happy clients all over America and Canada. Our preference is for our dogs to go to hunting or compete in field trials since our dogs are bred to work hard. However, our Yellow Labs are very personable and become happy family companions.
Blue Sky's premium yellow labs have the pedigrees and the papered titles that no one in the area can compare to. These are quite simply some of the finest hunting dogs in all of Washington State.
We produce Certified Master Hunter and Field Champion yellow labs, bred for upland bird hunting, waterfowl hunting and companionship.
Many of the top breeders and trainers in Washington State get their dogs from Blue Sky Labs…maybe you should too!
Gregg Mourges / Owner & Breeder of Merit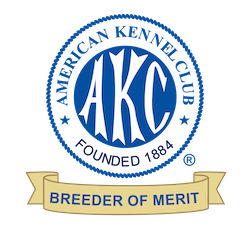 Frequently Asked Questions
Do you offer a guarantee?
Absolutely! We offer a comprehensive guarantee against genetic defects. You can read our full guarantee policy here.
Do you offer training?
We do not offer specific hunting or field trial training. However, we can recommend a number of excellent trainers.
Do you offer Stud dog services?
Yes, from time to time we do offer exceptional yellow lab stud dogs for select breedings.
Do you have any started dogs available?
We very rarely have started dogs available as almost all of our litters are pre-sold and we are highly selective of the homes we send our dogs to.
Happy Dogs Create Delighted Customers

"Gregg, we wanted to drop you a note and tell you what an outstanding dog Zoe has become. These past 8 months have been a joy. Zoe is highly intelligent, loyal and deeply devoted. Although she has not had any official hunt training as of yet, she takes initiative when it comes to retrieving and flushing birds. She is a powerful, substantial athlete. We could not have asked for a better companion. We have recommended Blue Sky Labradors to several of our friends and will continue to do so."
—Phil & Lori Reuben